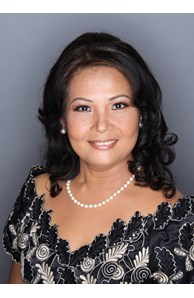 REALTOR-ASSOCIATE®
Lic#: RS-71106
Email

coraa@cbpacific.com

Phone
Office

Leeward

98-211 Pali Momi Unit 411, Aiea, HI 96701
More about Cora Agliam
Awards & Recognition

2015 Coldwell Banker International President's Circle
2013-14 Coldwell Banker International Diamond Society
2015 Aloha A'ina REALTOR® Award Nominee
2013 & 2014 Top Block Client Satisfaction Survey Awardee
"YOUR SATISFACTION IS MY PASSION!"

Cora brings to her clients the passion of giving them the best service teamed with her strong commitment towards professionalism and client satisfaction. Cora is an advocate of Coldwell Banker Pacific Properties company vision in delivering real estate experiences beyond expectations to enhance her client's lifestyle. Going above and beyond her service, coupled with her high ethical standard is vital to Cora's life and is how she gains her client's loyalty and trust.
Prior to real estate, Cora has an extensive background in banking and management.  Cora's clients are able to capitalize on her wealth of knowledge from her strong financial background, giving them an edge in this competitive real estate market.  Her experience and commitment to her clients helped Cora achieve Coldwell Banker Pacific Properties – Outstanding First Year Associate award in 2008.  Since then, Cora has also attained Coldwell Banker Pacific Properties, Leeward Office Top Producer/Top Salesperson award.  In 2015, Cora was awarded Coldwell Banker International President's Circle Award, ranking in the top 6% of all Coldwell Banker agents internationally.  In 2014, 2013 & 2012, Cora achieved Coldwell Banker International Diamond Society.  A testament to Cora's exemplary service, Cora has been nominated for Best of the Best in 2009, 2010, 2011, 2012, 2014 & 2015 in The Honolulu Board of REALTORS® prestigious Aloha 'Aina REALTORS® Award. Cora's very strong negotiation skills, her market expertise and looking after her client's best interest continue to sustain Cora an endless referral from her past clients. 
Cora was born and raised in the Philippines and graduated from Saint Mary's Academy and obtained her degree in Psychology at Lyceum of the Philippines in Manila.  During Cora's free time, she enjoys spending quality time with her husband Ed, son Aaron and daughter Aycee. She also enjoys reading, home cooking and traveling. 
Contact Cora today for all your real estate needs and see upon yourself why she's different from the rest!
Client Testimonials

Satisfied Seller:
It is our pleasure to say thanks and recommend Miss Cora Agliam as a real estate agent for any individual or family searching for the ideal home for any unique situation. I am in the situation that is ready to let go of my property regardless of the negative impact it may bring to my credit. I already missed few months of mortgage payments and cared less. Miss Cora had an initial meeting with us through one of our family friend. She listened to our story and took diligent notes regarding our situation. Miss Cora gave me hope that she can negotiate and will do all her best to get us out with minor possible impact on the credit reporting. Miss Cora never fail to contact and converse with the lender's negotiator just to solve our situation and notifying me right away of the progress. One instance is when her family took a vacation on international cruise; she never fail to my surprise that she's even giving me updates even she's out there sailing on her "off" days……. We find Ms. Cora to be a highly attentive agent, almost as if we were her only customers, although we know that was not the case. She returned all phone calls and emails the same day. We never felt neglected or unimportant (specially it is a short sale deal). She is also highly personable with an engaging personality. Ms. Cora was honest about some minor changes that we needed to make in our house to attract buyers quickly, and her advice worked like a charm. She even decorated the house using her own staging items. It was superb on how she devoted her time decorating the house to like it wasn't for sale. We are pleased to recommend Ms. Cora to anyone looking to buy or sell a home. She is hands down the best in the business in our opinion and if we ever need to move forward again in the near future, she will be our first choice in real estate world. Much Mahalos' Miss Cora for a job well done! Mabuhay!
Satisfied Buyer:
Were so proud and happy to say were very satisfied, working with our sales associate, (Mrs. Cora Agliam), she's very dedicated to her work, give you encouragement, very professional in terms of her client satisfaction, very compassionate, she inspired us, she's very strong in terms of negotiation, were so lucky and blessed to work with her, and Coldwell Banker, in this journey of our family without her, and Coldwell Banker we won't be able to fulfill our american dream...Thank you so much.