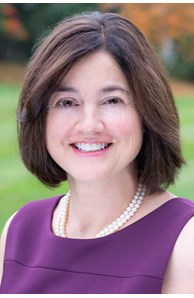 Sales Associate
Email

Leah.Hart@NEMoves.com

Phone
Office

Weston

426 Boston Post Rd, Weston, MA 02493
Connect with Leah
Designations
Accredited Buyer Representative (ABR), Senior Real Estate Specialist (SRES)
More about Leah Hart
Leah combines her extensive knowledge of the local real estate market with her business background and total customer focus to deliver outstanding results for her clients.
Testimonials :
"Leah turned the harrowing, stressful, complex process of buying a home into a joy. We were not first-time home buyers – but we were buying into a very hot market. Leah was much more concerned about making sure our needs were met than making a sale. She is the very definition of a buyer's advocate – Leah was more prepared with documents and details then the seller's agent was! She consistently went above and beyond – at one point going to town hall and taking photos of all the documents on file, including the septic plan and previously pulled permits.
Leah is genuine, professional, and really good at her job. Her communication by voice and text was excellent.
We tried buying without an agent. We tried Redfin. We tried other agents. The bottom line is this: If I am ever in the position to buy or sell a piece of real estate again in metro west – my first call will be Leah."
-Rich W
"If you are looking for a real estate professional to assist you in the sale of your home in Wellesley, Wayland, Weston or Sudbury, I highly recommended Leah Hart.
Leah handled the sale of my home in Wayland last year. She exceeds my exceptions in every regard. Her marketing advice was spot on. She clearly understands the dynamics of the local market very clearly. Her advice as to the competitive landscape, timing, promotion and price were absolutely on target. She prepared a highly professional campaign. She gave me sound advice as to preparing my home for sale for sale including staging. Her brochure was top quality with professional photos and a floor plan of all three levels and showed the property to full advantage. Unlike some realtors, she does not use a lock box. She was personally present whenever the property was shown which allowed her to answer any question and gauge a prospective buyer's interest. As a result, she obtained an offer in excess of asking price within a few days of posting my listing.
This was only the beginning as her service continued to impress as she handled the closing process. She handled the buyer's inspection without my having to take time off work to be present. She negotiated minor adjustments following the inspection. She handled the final water reading and the inspection for fire and CO2 alarms. As a result, the closing was very smooth, which she handled while I already on my way to my new home in Florida.
In short, Leah made the sale of my home so easy. A consummate pro. Highly recommended."
-Ken B
"Leah helped my fiancée and I buy our first home together while we were simultaneously planning our wedding, so we had a lot on our plate. She made the process smooth and enjoyable. She walked us through the process from started to finish, she was extremely knowledgeable and ensured that she advocated for us every step. We loved her intimate knowledge of area and neighborhoods where we were looking. I couldn't have asked for a better experience with Leah and I would recommend her to anyone looking to buy their home."
-Matthew M
"Leah Hart showed exceptional attention to detail as she assisted us with the purchase of our Wayland home. She conducted a thorough home search and found the perfect home for our family. We wholeheartedly recommend Leah Hart for your real estate dealing."
-Sue O
"I just wanted to thank you one more time for all your efforts. I appreciate everything you did for me, especially interrupting your vacation and dealing with the relocation company and the other broker."
-Ilene A
"Our sincere thanks for assisting us with the purchase of our first home! It was a pleasure working with you."
-Michael & Cindy C
Business Experience :
· Licensed Real Estate Professional
· Major Accounts Manager
· Client Services Manager and Business Analyst
· Recruiter
Professional Achievement :
· Named to NRT's Top 2 %
· Skilled negotiator
· Recognized as top performer in client service
Education & Certification :
· Massachusetts Real Estate Sales License
· National Association of Realtors
· Massachusetts Association of Realtors
· Hartwick College, BA
· Babson College, MBA Program
Community Involvement :
· Wayland Library Trustee
· Wayland Public Schools Foundation
· Coldwell Banker Cares
· Volunteer in numerous community based activities