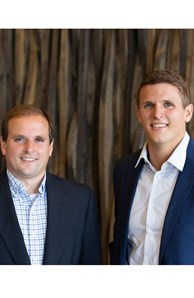 Awards

International President's Circle Team
Languages other than English
Spanish
More about the Team
Biography

The Distad Team has been helping buyers and sellers achieve their real estate goals in the Twin Cities and surrounding areas since 1978. Our business started in downtown St. Paul with Burnet Realty. In the mid 1980s we moved our business to the Highland Park office where we lived and worked for 25 years. Coldwell Banker and Burnet joined offices in the late 1990s and we have remained at the Highland Park office of Coldwell Banker Burnet since the merger. Highland Park is our home and this is where we love to work. Tom and Mike attended Highland Catholic grade school and Cretin Derham Hall high school (our mother's alma maters). We lived on Highland Parkway for 25 years and have collectively run the Twin Cities marathon three times. Highland Park and the Twin Cities has provided us and the community we've lived in many great opportunities personally and professionally. The Twin Cities frequently ranks among the top Cities for young professionals. The Twin Cities also provides some of the countries' best trails for biking and running, in addition to some of the best urban parks and lakes. Throughout our years living and working in the Twin Cities we have had the opportunity to meet many wonderful people from around the city and the country. The professional opportunities draw many people into the cities and the amazing urban landscape retains them. We are excited to share the city with all of our clients, whether you're a St. Paul "lifer" or a recent transfer we enjoy helping you make the cities your own.
Testimonials

The Distad Team are St. Paul and Minneapolis Realtor pros. They are fully invested in your property search from initial viewings through closing and beyond. Best of all, they have the experience and coverage to make you feel like their number one priority at all times!
-Katie and Dan Fugina
The Distad Team was extremely knowledgeable about the market and process, not a single question went unanswered. They were also very responsive and accommodating. I NEVER waited for a call back; they were always on top of every question or request immediately. I am grateful to have been represented by such a dedicated, hard-working and exceptional team.
-Eileen Gavin
We appreciate the deep knowledge of the Twin Cities market, the no-pressure approach, and most, their sense of humor. They are truly a joy to work with; so much so we wholeheartedly recommend them to our parents and friends.
-Robb and Kim Heckmann