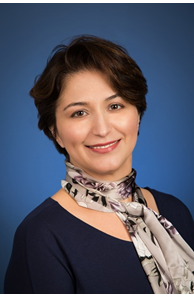 Sales Associate
More about Nazire Koc
Service Areas and Specialties


I specialize in real estate in selling and helping my clients buy a home throughout St. Louis City and County; Ladue, Clayton, University City, Creve Coeur, Olivette, Maplewood, Richmond Heights, Brentwood, Glendale, Kirkwood, Des Peres, Webster Groves, Frontenac, Town and Country, Chesterfield and Ballwin.
Professional Experience


From the home search process to financing, to title insurance, and more — straight through to the final closing of your transaction.When I represent a seller, my responsibilities are:
helping a seller market their home to potential buyers.
helping a seller sell within a specific time-frame.
helping to price the home competitively.
helping to find a buyer for their home.
When I represent a buyer, my responsibilities are:
helping to find the right home in the location that they are looking for.
helping with negotiating the term of contract.
helping with price negotiation.
helping my buyers understand the process of buying a home. I am very detail oriented and prompt person and I make sure that everything is in order when the home buying process starts.
Professional Education and Designations


EDUCATION:
Graduated from Coldwell Banker Gundaker's School of Real Estate
M.S., Department of Computer Science, SIUC, 2007
M.S., Department of Mathematics, SIUC, 1998
DESIGNATION:
Member of National Association of Realtors
Member of Missouri Association of Realtor
Member of St. Louis Association of Realtors
Member of the Mid-American Regional Information Systems
Member of Supra E-Key Service
Client Testimonials


"My wife and I had the pleasure of working with Nazire on the purchase of our first home. Nazire is patient, knowledgeable, reliable and communicative. We felt we were in very good hands and would certainly use her services again."
"I used Nazire to both sell and buy a new home. In both cases, she felt like part of my team. She wanted what was best for me and did everything she could to make sure I got what I wanted. I was buying in a particularly competitive market, so it was important that I was able to see a house as soon as it came on the market. She was always available via text, phone, or email. She walks you through every process and all of the paperwork you need to do--she makes it as uncomplicated as possible. It's clear she wants to make this an enjoyable and easy process as it can be."

"My wife and I worked with Nazire for both the sale of our first home and the purchase of our second. The process of buying or selling a home can quickly become overwhelming and very stressful. Working with Nazire was exactly the opposite. She was incredibly flexible regarding our frequently changing wants and needs and very knowledgeable about the market and many neighborhoods we were interested in. Nazire's guidance allowed us to sell our first home within the first day it was on the market, and our closing process was as smooth and straightforward as possible. And even in one of the most competitive markets in recent times, she helped us buy a home that fit almost everything we were looking for in the exact neighborhood we wanted within our fairly limited budget. I highly recommend Nazire's services and will be happy to work with her for our future real estate needs."

"Nazire is my number 1 and only choice for real estate! She was absolutely amazing. Nazire listens to the desires of her clients and she will go the extra mile to accommodate all needs. I knew very little about the home buying process, but she made me feel very comfortable with each and every decision I made. It was a honor to have her represent me at closing."

"I had the pleasure of having Nazire as my realtor during me 1st home purchase. She is personable and highly professional. She is very knowledgeable of St. Louis County and City. She not only arranged for me to look at listings, she also provided me with her thoughts and opinions on the houses and area. Nazire always answered my questions and proactively provided me with all the information during the purchase, She seamlessly worked with me during the paperwork and negotiation process. I am currently working with her on purchasing a rental property. I highly recommend her to anyone looking for a realtor."

"Buying a home is such a personal thing and you want to work with someone who supports you throughout the whole process. Nazire was exactly what I needed, she is so responsive, answered all the crazy questions I had. She made the whole experience so pleasant. After buying my home in 2016 I continue to work with Nazire to start my real estate investment business and I am in the process of buying the first investment property thank you Nazire."
When Buying, Selling or Relocating, for the support you need and deserve, call me at 314-341-3575.