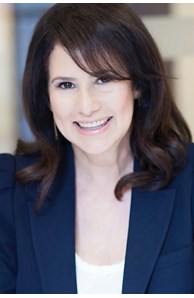 Branch Vice President, Manager
Email

lea.governale@coldwellbankermoves.com

Phone
Office
"This is the place to be, this is home! I would love to tell you about our office, our family and the opportunities available to you."
More about Lea Governale
Helping Agents Live Exceptional Lives

As managing broker of the Hoboken Office, I offer a supportive, creative, educational and productive workplace to affiliated agents. With over 20 years in the real estate industry in both the Hudson County and Manhattan markets I have an enormously wide breadth of experience to offer my team. Along with being a long-time resident of Hoboken, I possess a strong understanding of the marketplace to further assist my team. I have been able to develop creative thinking strategies which allow me to empower my sales associates in successfully completing transactions and becoming an advocate for their clients. I have an open-door policy and I am willing to offer help to every independent agent so that they can achieve their business and life goals. Providing agents with ongoing training opportunities to ensure that our office operates on the cutting edge of industry technology and standards is also a high priority. I am a firm believer in being a non-competing broker in order to focus all my energy on individual agents and office growth.
The Hoboken office is conveniently located near highways and our agents are ever intrepid covering not only Hoboken and Jersey City but also have deep roots in the surrounding towns with their business. Our office is staffed with a fun mix of diverse professionals who have worked to become hardworking and helpful agents. We pride ourselves on our commitment to our clients, our community and each other while maintaining high ethical standards. Whether you are looking to purchase a home, sell a home, relocate or invest in the Hoboken, Jersey City, Union City, West New York, North Bergen, Guttenberg, Weehawken, Edgewater our agents are here to promote positive and sustainable growth to the area.
PRODUCTION POWER
• The Region's Most Trusted Brand
• Experienced Management and Support Team
• Innovative Marketing Suite
• Lead Generation and Referral Programs
• Complimentary Core Tools
• AMAZING & FABULOUS BOOST MARKETING PROGRAM a state of the art marketing tool to boost the number of clients that you are working with

COACHING WITH CONFIDENCE
• Comprehensive Company-Wide Coaching and Learning Opportunities
• Personal In-Office Coaching and Workshops
• On-Demand Learning
• eMarketing Coaching

CULTURE OF AWESOMENESS
• Be Part of Something Truly Great
• Better Together
• The Best of CBG
• CBG Cares
• Client Appreciation and Networking Events

WEALTH BUILDER
• ABC Commission Plan
• Comprehensive VIP Program
• Referral Rewards
• Legal Assistance Program
• Whether you are considering a career in real estate or you have previous experience and are interested in learning more about our CORE 4 VALUES and a change to Coldwell Banker Hoboken Office feel free to call Lea@ 917.903.4036 or email lea.governale@coldwellbankermoves.com We would be happy to have you as a part of our team!