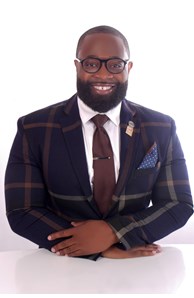 Branch Vice President, Broker Manager
More about Irving Cham
From humble beginnings to big dreams! Irving is a multi-talented Real Estate aficionado. From owning various DE&I projects to being a pillar in the communities he serves, Irving is a resourceful dedicated professional that tactically uses 17+ years of experience in the Banking and Real Estate industry. Growing up in the inner city of Irvington, NJ, Irving exemplifies the discipline, hustle and grind required to continually work your way through breaking down walls and barriers in order to execute your goals. Irving has held multiple roles in his career spanning from Management to self employed business owner of a successful Property Management company securing a multi-year contract with the largest REO/HUD property preservation company on the East coast. He's had the pleasure of playing a prominent role in Urban Development in Essex County. Irving has been recognized and awarded by the city of East Orange for his work as a Real Estate Developer in the community. In his current role as a Regional Growth Manager for Coldwell Banker, Irving strategically applies his expertise in working with people when recruiting, developing and mentoring new agents. Irving is relentlessly focused on growth and he uses data to strategize to find solutions to what may seem like complex problems. He believes in valuing individuals because of their uniqueness and supporting efforts that positively impact the company culture and growth opportunities.
Current Co-Chairperson of ACE at Anywhere
Current NCJAR Trustee
Immediate Past President of NAHREP Union Essex
NAHREP National Coach
Member of NAREB
Member of AAREA
Former Chairman of Bank Of America's BPG
Former Vice Chairman of NAACP Newark
Minority Achiever YMCA 2007
Education Director Toastmaster Inc 2006
"We as People have so much to unlearn, dismiss what's not working and embrace a better way".