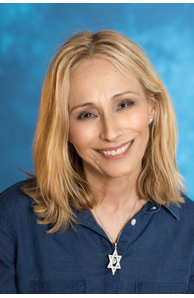 Real Estate Salesperson
Email

Gilda.Netz@coldwellbankermoves.com

Phone
Office
Reviews from Clients
Connect with Goldie
Languages other than English
German, Hebrew, Swiss, Yiddish
More about Goldie Netz
1. Goldie is Golden indeed! Gilda "Goldie" Netz is absolutely the hardest working seller's agent in the business. Unlike the typical "Lock Box Lucy" Goldie is personally present at every showing of your property, This unique step adds an exceptional level of professional care and added security for your home.
Small in stature yet big in tenacity, Goldie helps you stage your home and present it in the best possible light. When all the preparations are done, Goldie fights for the highest and best offer for you and your family. I highly recommend that you select Goldie as your agent.
T.W. Woodfield Road, Pomona
Retired NYPD Detective
Village Board Member
LISTED AND SOLD: $475,000
2. Goldie Netz is one heck of a real estate broker! She makes sure to list your home in the most appealing way possible. She takes care of every detail of the listing and watches over potential buyers like a hawk. Goldie is there every step of the way from listing to final closing. She gets top dollar for each house, You can have great confidence in her skills. Friendly, polite, knowledgeable and a real go-getter that sums up Goldie. Goldie got an awesome price for my home in Pomona while other brokers were encouraging me to take much less.
3. Goldie Netz was a consummate professional who took the sale of our home personally. She absolutely cared and gave us white glove service. The fact that she doesn't use a lockbox set her apart from other realtors and gave us the reassurance that strangers were not traipsing through our home. She understood our concerns and was totally responsive. If you just want a realtor, hire the others. If you want a realtor who truly cares, understands your needs, fights for you and knows the current housing market, hire Goldie!
4. Hi Goldie,

Thank you so much for your efforts (and persistence) in getting house viewings over the last few weeks, and especially for your extraordinary dedication exhibited yesterday while you were in so much pain. I can't imagine too many people who would put themselves out for a client as you exhibited yesterday - you were in so much pain and agony.

I hope your procedure has or will go exceedingly well today, your pain should disappear, and you can smile and be happy again real soon.

Avraham
A.H. Halley Drive, Pomona
President of Synagogue in Monsey
SOLD: $610,000
5. Goldie:
It was great meeting you this afternoon. The ---- were very happy with the job that you did for them.
I want to be sure that you understood that we closed in escrow because the buyers were short by $150,000. They promised to wire it to me in the morning. For this reason, we are all holding the checks and not depositing them until the wire arrives. Please do the same with the check that you were given. It should all be straightened out by 11am. I will email you the minute it arrives.
Thanks again for a great job (I have closed other houses in the neighborhood, and you really got them a great price)
Call me if you have any questions.
---
Attorneys at Law PLLC
Attorneys at Law PLLC
270 Madison Avenue, 13th Floor
New York, NY 10016
Dr. - Highview Road, Monsey
LISTED AND SOLD: $1,200,000
6. Mr,
You don't know me but I am a client of Goldie. Netz. I understand that you are interviewing Real Estate Agents to sell your home. Before you make your final decision let me say that Goldie works very hard, to ensure that you sell your home. A home is a big investment Goldie understands that and works tirelessly so that you get what your home is worth; she understands the housing market as well as the community culture. She assisted in the selection and hiring of cleaning personnel to ensure that my home was ready to sell (she actually assisted in the cleaning process) Her photographer is also top notch.
If you give Goldie the opportunity to sell your home you won't be disappointed.
Sincerely,
S.C.
Pomona, NY
LISTED AND SOLD: $520,000