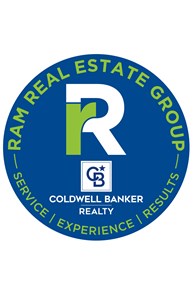 REALTOR®
Service. Experience. Results.
Awards

International President's Circle Team

Circle of Excellence

2014 OAR President's Sales Club Award

25 Million Dollar Club

Cartus
Designations
Luxury Property Specialist (Luxury Specialist)
Languages other than English
Hindi
More about Rakesh Ram
MEET THE PROFESSIONALS OF THE RAM REAL ESTATE GROUP


Rakesh Ram
Rakesh has been specializing in residential sales in Greater Cincinnati since 1987. He and his group sell a home every three days, topping more than 4,000 homes sold. Each of those homes represents satisfied clients on both the sale and purchase sides of the transaction. Rakesh's business model is straightforward: Deliver the very best real estate experience to each buyer, seller, builder, and investor. Personable, professional, proactive, and visionary...Rakesh has the expertise to deliver the exceptional real estate experience you deserve.
Licensed in Ohio and Kentucky. West Shell Realtors Hall of Fame. Coldwell Banker International Presidents Premier. Coldwell Banker International Diamond Society. Coldwell Banker 25 Million Dollar Club. CABR Top 1%. Coldwell Banker West Shell Top 1%. Sales Marketing Council Top Gold. CABR Circle of Excellence. OAR President's Sales Club. Previews Property specialist. Certified Cartus relocation specialist.
Mitchell Ram
Born and raised in Cincinnati, Mitchell is a second-generation REALTOR®. He knows Greater Cincinnati inside and out, including its trendiest districts, most family-friendly enclaves, and up-and-coming neighborhoods. Motivated, professional, and energetic...Mitchell is committed to a simple business philosophy: Real estate is about more than walls and roofs. It's about YOU, the client. Mitchell's priority in every transaction is your satisfaction.
Licensed in Ohio. Buyers' agent. Sellers' agent. First time home buyers. Relocation. Single-family homes. Multi-family homes. Condominiums.
Larry Baker
Larry brings a lifetime of professional experience to every real estate transaction. Following a career in public accounting, as a partner at powerhouses Arthur Anderson and Grant Thornton, Larry turned his talents to real estate. His financial acumen and dedication to client service ensure that clients receive attention to detail, excellent communication, and the very best service, experience and results.
Licensed in Ohio. Buyers' agent. Sellers' agent. Investment properties. Relocation. Single-family homes. Multi-family homes. Condominiums. New construction.
Brad Feldhaus
Brad is a born-and-bred Cincinnatian, Elder High School alum, big-time Bengals fan, and a go-getter when it comes to helping you buy, sell or build a home. He is a "people person" with a wealth of customer service experience, as well as a real estate investment entrepreneur.
Licensed in Ohio and Indiana. Buyers' agent. Sellers' agent. First time home buyers. Relocation. Single-family homes. Multi-family homes. Condominiums.
Allison Voelkerding
Allison is an experienced REALTOR® serving Greater Cincinnati. A native Cincinnatian, she knows the region well and appreciates all it has to offer. Allison understands that the home-buying experience is a major life event, and is committed to helping you through the process.
Licensed in Ohio. Buyers' agent. Sellers' agent. First time home buyers. Relocation. Single-family homes. Multi-family homes. Condominiums.
Jake Proctor
Jake offers proven business know-how, unbounded passion for service, and a lifetime of local market knowledge. A former star outfielder at Oak Hills High School and the University of Cincinnati, Jake signed with the Minnesota Twins. He returned to Cincinnati to start a business and a family. A successful business owner, Jake founded and operates one of the area's premier personal training centers.
Licensed in Ohio. Buyers' agent. Sellers' agent. First time home buyers. Relocation. Single-family homes. Multi-family homes. Condominiums.
Grayson Combs
Grayson is a lifetime Cincinnatian with native's knowledge of the tri-state and its neighborhoods. He understands that each neighborhood has its own personality, amenities, and appeal. He also recognizes that each client has unique real estate needs and aspirations. Grayson delivers the personalized service, exceptional experiences, and very best results that keep clients coming back to him as their needs change. Grayson has been helping clients realize their real estate goals since 2017. Before becoming a REALTOR®, he enjoyed a career in accounting and finance. He is a graduate of Oak Hills High School, and holds a degree in finance from the University of Cincinnati.
Licensed in Ohio. Buyers' agent. Sellers' agent. First time home buyers. Relocation. Single-family homes. Multi-family homes. Condominiums.
FROM OUR CLIENTS
We were so impressed with the services provided by the Ram Real Estate Group. We would highly recommend them to anyone looking to buy or sell.
 Stefanie Schaffer
Phenomenal customer service. They made our first time buying a home very easy and we are beyond happy with our purchase. Becky Coombs
They provided excellent advice and kept us informed throughout the process. They listed our house in Jan, and we closed in Feb. Lana Callahan
Rakesh and his team kept us very well informed of what was happening and how we would benefit from the different scenarios. Rakesh always had our best interest in mind when selling our house! Megan Bolser
Rakesh and his team are there for you every step of the way. We felt that we had a friend there with us helping through the big decisions. We have every confidence in Rakesh and his team, and have had three very successful real estate transactions with them. The Fenno Family
I cannot say enough about Rakesh. He is a true professional. I would never make a move without Rakesh. He has represented me in both of my real estate transactions. Dr. Dwight Dessart
Your professional courtesy and direction went well beyond my expectations. This was the second real estate transaction that you have represented me through with utmost satisfaction. I continue to share my pleasant home-buying experience with others. When the time comes, I will call you again. Connie Caudill
Rakesh did an excellent job for us. Professional and effective. Mark Winterhalter
Rakesh assisted us in selling our home in Northern Kentucky and purchasing our new home in Cleves, Ohio. He was very involved and also extremely responsive when we reached out to him with questions or concerns. He understood our limits and negotiated both deals extremely well. We were extremely happy with our quick and pleasant experience. Lori Hand
Rakesh did a perfect job of listing, photographing, negotiating and closing the sale. Not only his professionalism, but also his extremely courteous and pleasant way of dealing with everyone. Jim Linda Reilman
Everything that could possibly be done on our behalf was done to make this house, that truly is our dream home, a reality for us. The Lewis Family
As a first time home buyer, Rakesh and Mitchell Ram made the experience of buying my first home a simple and painless process. The entire team was very knowledgeable and did an awesome job at helping me understand every step of the way! I would recommend Rakesh Ram and Mitchell Ram to anyone interested in buying a home. Each individual I encountered from the Ram Real Estate Group was very professional, friendly, and approachable! Andrea
SERVICE. EXPERIENCE. RESULTS.
A home sold every 3 days!
30+ years experience in real estate sales and the new homes market.
More than $40 million in annual sales volume.
Knowledge in the lending industry.
Land development and new construction experience.
Professional team of experts to manage marketing, customer service, and proven results.
4,000+ successful transactions.
Noted by The Wall Street Journal as the top half of 1% of 963,000+ licensed realtors nationwide (#185 nationally).
Top 1% with Cincinnati Area Board of Realtors (CABR).
Top 1% with Coldwell Banker West Shell.
Top 5% of Residential Real Estate Agents Nationwide / Dozen National Sales Award.
Sales Marketing Council Top Gold Award for New Homes Sales.
President's Sales Club Award by Ohio Association of Realtors (OAR).
West Shell Sales Hall of Fame.
Ranked by the Cincinnati Business Courier among the tri-state's Top 25 Sales Associates.
THE RAM REAL ESTATE GROUP
Buying, selling, or building a home is one on the largest investments you'll make in your lifetime, financially and emotionally. You need the right people in your corner. At the Ram Real Estate Group, we understand that and we're here to help.
Our commitment to you.
We're committed to making a positive difference in our clients' lives. We are your confidantes, your trusted resources for reliable information, and your staunchest advocates throughout your real estate transaction.
Put our expertise to work for you.
Whether you're buying, selling, or investing...you can count on us for the highest level of professionalism available anywheremdash;including up-to-the-minute marketplace knowledge, accessibility, organization, attention to detail, tenacity, honesty, inspired use of technology, and experienced negotiation.
We're with you every step of the way.
We listen to you, answer your questions so you can make informed decisions, and offer the guidance you need. We're your on-call problem solvers, and our goal is to deliver a smooth, efficient real estate transaction that saves you time and money.
We've been helping people buy and sell homes for more than thirty years in Greater Cincinnati. It would be our privilege to assist you.
FOR OUR COMMUNITY
At your closing, the Ram Real Estate Group will make a charitable contribution in your honor to the following not-for-profits doing meaningful work in our home town: 1N5; American Cancer Society; The Butts Family Foundation; Gig Brothers Big Sisters; Karen Wellington Foundation for LIVING with Breast Cancer, and Leukemia Lymphoma Society