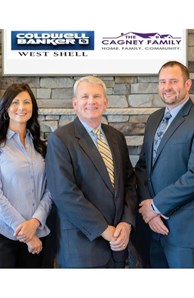 Introducing The Cagney Family
Awards

International President's Elite Team

Circle of Excellence

2014 OAR President's Sales Club Award

2013 OAR President's Sales Club Award

2012 OAR President's Sales Club Award

2011 OAR President's Sales Club Award
Designations
Certified Residential Specialist® (CRS)
More about the Team
We are a father, son and daughter expert partnership licensed in Ohio, Kentucky and Indiana.
With over 80 years of real estate experience, our team brings a unique combination of community, creativity and innovation, which we customize to your unique needs.
Family is more than a slogan to us.
It's the way we do business-treating each of our "clients" like we do our family: We are committed to working hard for you so that you can achieve your dreams and make the best decision for your family.
Our work is built on three key pillars:
Dedicated service
We listen and protect our clients, working harder than our competition.
Best of old school and new school
We've got it covered with a unique combination of innovation and creativity, anchored by a foundation of service and commitment to doing what's right.
Part of the Cagney Family
There is nothing more important to us than family. We treat you with the same generosity and support that we do our family and friends to help guide you to the best solution.
We are backed by the knowledge, technology and resources of Coldwell Banker West Shell, the number one brand in Real Estate. But even more importantly, it is our dedication to helping others achieve the American Dream of Home and giving back to our local community that truly drives us every single day.
What family means to us:
It means Sunday dinner with the kids running around the table. It is about spending time with those you love and always trying to give them your best. Getting together to celebrate each holiday and milestone. It's working every day with our dad, our hero, in this business we both love. It's believing in community and living by your core values-protecting those you care about and helping them along their journey. Welcome to the family and welcome home.
Testimonials
Business Philosophy
Our business philosophy is simple: We strive to deliver a positive experience for every customer. This is accomplished through the collaborative efforts of the many members who are dedicated to the success of your housing transaction. For nearly 50 years, we've been getting high marks from our home buying and selling customers in Cincinnati, Northern Kentucky and Southeastern Indiana. It is our plan to continue this tradition and we look forward to serving you.