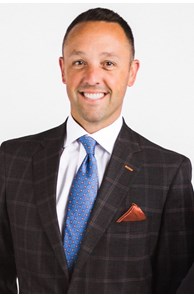 Sales Associate
Email

andrew.guanciale@kingthompson.com

Phone
Team
Office
Awards

International President's Circle Team
Designations
Smart Home Certified
More about Andrew Guanciale
Profile Information

View my listings at www.kingthompson.com/patrick.guanciale .
Visit my web site at www.allaboutlickingcounty.com

Three generations of real estate professionals - the prestigious reputation of Andrew Guanciale has preceded him in the business. Selling comes naturally to Andrew, as does his dedication to the needs of his clients. He wants every customer to be as happy with their home when they go to sell it as they were when they first took possession of the property. To this end, Andrew pays close attention to market trends and is able to provide his customers with the latest market data about properties and comparable sales in their area.
A lifelong resident of Licking County, Andrew is a proud graduate of Newark Catholic High School. He holds a degree in Finance from Capital University. When he's not hard at work, Andrew enjoys spending time with his wife Jill and three year old son Luke.

Confident and dedicated to his profession, Andrew is motivated to demonstrate his abilities to new clients. His family real estate background and knowledge of the market area give a unique insight and expertise that provide a great benefit to his clients. Honesty, integrity and a genuine interest in the individual needs of every one of his customers all make Andrew a professional you can count on to get the job done.
Andrew currently sits as Past President of the Licking County Big Brothers Big Sisters Board of Directors and President of the organizations Foundation. Current Advisory Board Member of the Salvation Army of Newark. Member of the Board of Directors for the Licking County Chamber of Commerce and sits on the organizations Government Affairs Committee. Hospice of Central Ohio Foundation Board of Directors. Licking Memorial Heath Systems Development Council. The Works Museum for Science and Technology Development Council. Andrew sat for several years as Director of the Licking County Board of Realtors. Past Board Member of the Midland Theatre in Newark, Ohio. Awarded the Licking County Board of Realtors 30 Million Dollar Club Award and 2010 Licking County Realtor of the Year honor.
Andrew has been named twice as one of Licking County's Top 20 under the age of 40 for professional leadership within the community.
Testimonials

"We were impressed time and again by the personal service that we received from the Guanciale Group at Coldwell Banker. When we had trouble finding the right house, our real estate agent never gave up and reassured us that we would find something perfect. Sure enough he found us the perfect house and helped make the purchase transaction seamless. Even after we moved into our new house, our agent followed-up to make sure that everything was just as we expected. We would be happy to recommend the Guanciale Group."
- Will & Lindsay Englefield
"Besides the fact that our house was in contract after only 48 hours of being on the market, Andrew was professional, calm, and optimistic throughout the entire selling process.  He was always available to answer questions promptly and accurately.  Andrew was with us every step of the way, from inspections and the appraisal, right up to the closing.  Andrew did a tremendous amount of work behind the scenes and the result was that the entire process was very easy on us."  
-Lee & Sally H., Granville, OH
"Buying and selling a house can be a stressful time. When we started the process the Guanciale Team was there to help. Not only were Andrew and Pat professional and honest, but they brought value with their expertise in contracts representing us as a seller and a buyer. The time and effort the Guanciale Team put forth took all the stress off of us, while making our goals happen. When it comes to agents bringing value with buying and selling real estate, my wife and I wouldn't think of anyone other than the Guanciale Team."
- Brandon & Jennifer Hess

Andrew worked very hard to find that perfect home for me. Andrew was extremely patient with me - he must have showed me at least 30 homes! He was available during the hours that I was available. We found that perfect home where I have great neighbors and in a neighborhood that I love close to the things that I like to do.
- Katie Cobb

Patrick and Andrew Guanciale were a complete pleasure to work with during the sale of my condo. They were always available to answer any questions I might have, and constantly kept me in the loop of the everyday dealings. I have peace of mind knowing I was working with professionals who would not only get the job done, but make it a pleasurable experience as well. I am constantly recommending them to other people looking to sell their own homes.
- Elizabeth (Snow) Urdarovski