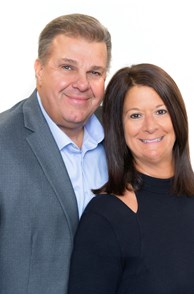 Email

tim.ulam@pittsburghmoves.com

Phone
Office
"In Local Real Estate, Tim & Sue Are The Ones To Know"
Connect with the Team
Awards
International Sterling Society Team
More about the Team
A Familiar Place ... A Familiar Face
There are a few places that Tim and Sue go where they don't see a familiar face. Maybe it's an old friend, the parent's of their kids' classmates or a business acquaintance. But the fact is that this couple and business team have seen the communities grow, raised their families here and know without a doubt that this is the best place to be.
Along with their lifelong area knowledge and business expertise, has created a powerful force in the local real estate. People in this area clearly benefit from the unsurpassed expertise and depth of knowledge Tim and Sue bring to each and every home sale. They know that Tim and Sue are experts on the local market and feel confident that they have what it takes to help them achieve their goals.
From their familiarity of the local school districts to their seamless handling of your transaction, Tim and Sue don't miss a beat when it comes to your next move. They sit down with you to find out exactly what you are looking for before putting together an action plan to find you the perfect home or the right buyer for your property. Their comprehensive marketing strategies are second to none in helping you get your home sold fast and for the highest price possible.
If you're thinking about buying or selling a home, the only names you need to be familiar with are Tim and Sue Ulam. To achieve your real estate goals, Get In The Know with Tim and Sue. Give them a call before your next home purchase or sale.
Personal Connection
Growing up here has given both of these respected professionals a unique perspective.
TIM, who grew up in Peters Township, attended the local high school and was active in sorts just like his own kids. He later went on to attain his business administration degree from the University of Maryland, but returned to the area to help his family with the growth of their national cookware company.
SUE, who was born and raised in North Strabane Township, attained her management degree from Robert Morris University before becoming a full-time mother. She loves that this small town still has the family-friendly atmosphere that's perfect for raising her daughter and son. Sue likes to say that she's never met a stranger here, having forged many relationships with people through her involvement with her kids' activities as well as her work as a successful businesswoman.
Local buyers and sellers find Tim and Sue's extensive knowledge of the area and business expertise to be the key to their success.
Common Bonds
When you combine their unique area perspectives and local business expertise, it's easy to see why Tim and Sue are the ones to know is local real estate. Their lifelong familiarity with the people and the communities within the Washington County area are what set Tim and Sue apart. People know that when they work with these savvy professionals on their home purchase or sale, they're in good hands!
"Get In The Know" with Tim and Sue and get your real estate goals on track today.
Awards And Designations
Named to the International Sterling Society 2008, which recognizes us in the top 8% of Sales Associates Worldwide
Average of 55 homes sold per year
Combined over 24 years experience
Named in top 20 of Coldwell Banker Real Estate Services
Pennsylvania Realtor Licensed (Tim 2001 . Sue 1998)
Members of The West Penn Multi-List
Members of WGAR (Washington-Greene Association of Realtors)
Member of National Association of Realtors
Named as "VisitPittsburgh Affinity Specialists"
Communities We Serve
If you are thinking about buying or selling a home in the Peters Township, Canon McMillan, Washington County or surrounding areas, the only names you need to be familiar with are Tim and Sue Ulam. To achieve your real estate goals, Get In The Know with Tim and Sue. Give them a call before your next home purchase or sale.
Peters Township
North Strabane Township
Cecil Township
Venetia
South Strabane Township
South Franklin Township
North Franklin Township
Chartiers-Houston
Canonsburg
Eighty-Four
Finleyville
Nottingham
South Fayette Township
We also serve surrounding areas of Washington County and South Allegheny County.
Contact TIm or Sue