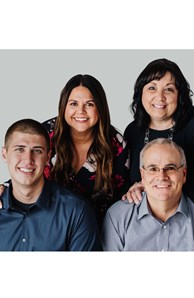 Sales Associate
Email

dan.haeck@pittsburghmoves.com

Phone
Team
Office
Awards

International Diamond Society Team
Designations
Cartus Network Marketing Specialist (CNMS), Certified New Homes Specialist (Cert. New Homes Sp.), eAgent, Luxury Property Specialist (Luxury Specialist), Residential Construction Certified (RCC)
More about Dan Haeck
Education and Training


Certified New Home Specialist (CNHS)
Residential Construction Certified (RCC)
Member of the National Association of Realtors (NAR)
REALTOR (Realtor Association of Metropolitan Pittsburgh)
Full Time Realtor
Coldwell Banker Global Luxury Agent (Luxury Home Market)
HomeBase InTouch Certified
Fair Housing Advocate
Experienced in New Home Construction Sales
Experienced in Commercial Real Estate Sales
Experienced in Condominium Sales
Experienced in Resort Home Sales
Over 30 years in sales and marketing experience. (Inside & outside sales, retail, mfg. rep.)
Personal Real Estate Website: danhaeckrealestateteam.com
Awards And Designations


Coldwell Banker Pittsburgh Offices Ranked Top 10 Agents
Coldwell Banker Pittsburgh Offices Top 5 Teams
Community Involvement

I have been a volunteer firefighter for Pleasant Hills since 1975 where I served as the borough fire chief for 14 years and am now a life member. I have volunteered for several organizations in the past including Jefferson Hills EMS, Big Brother for BBBS of Pittsburgh, and Make-A-Wish of Greater Pittsburgh.


I am a PA licensed Realtor able to do business anywhere in Pennsylvania. My main areas of business are Allegheny, Washington, and Westmoreland Counties but have also done business in many other areas. I have sold homes North to Cranberry and resort homes in Clearfield County's Treasure Lake. Going South to Somerset County, I have listed and Sold lake and resort homes in Indian Lake & Lake Stonycreek. I have listed and sold homes and condos in Mt. Washington, Downtown, Nevillewood, and Sewickley. So it really is just a matter of if the location is a good fit for the client.
For real estate located outside of Pennsylvania, I have a worldwide referral network for second homes, vacation homes and resort homes and properties.
Testimonials

Our property was a real challenge; a Pittsburgh condo in a depressed housing market. When Dan came into the picture it had been listed for over two years without an offer. Even before we listed with him he did a virtual tour video, gave us sound advice, and worked on our behalf at his own expense. He was unobtrusive yet efficient. Within one month of listing with Dan the property sold at over 90% of asking price. He was always available to us and made our selling experience enjoyable.
Philomena and George Johanssen

"We looked at several houses trying to find the perfect one for us to retire in. It just wasn't happening. We really wanted features that just didn't exist in homes even 5 or 10 years old. Dan introduced us to a couple of new spec home builders that were open to allowing a certain amount of customization. The new home we settled on is now used by the builder as a new design in their portfolio. We were a little worried that the home we had built and lived in since 1986 might take a while to sell in what the media called a "slow market". Dan came over and discussed the market, pricing, and what we needed to do to prepare the house for sale. He listed it and it was sold in about 6 weeks."
Dave and Bonnie Dowdell
"I feel really lucky to have had Dan as my real estate agent. I felt bad because it felt like I looked at a hundred houses and just could not find a house that I liked. Throughout the whole process Dan was always honest and never put any pressure on finding a house. Dan made it a personal quest to find me a house that I would like. Just when I thought that I would not find a house, Dan took me to a house that was new on the market and when we left that night I told Dan I was buying that house. Being a first time buyer Dan was always available for my phone calls to assist with me with the purchase of my new home."
Michael Dziki


Marketing, Advertising, & Technology

Appropriate printed and internet advertising for each listing which can include, full color post cards, brochures, magazine/newspaper ads, dozens of home buyer websites, social media sites, etc. Professional photography and drone video where warranted, visual tours. Coldwell Banker Global Luxury Agent for International Luxury Homes Market. Homebase In-Touch online rapid response system for buyer contact within seconds. Mobile Web version for user friendly smart phone web access Search Engine Optimization make us among the top websites returned in keyword searches. Home Search Alert allows registered buyers to receive alerts on new listings. Sell CB First system allowing agents to promote new future listings for a faster sale. Homebase exclusive transaction management system for 24/7 access to your documents. Online Showing Report shows sellers how many online visits to their listings. Automatic Website Submission for a combined audience over 10 million visitors every day. Coldwell Banker On Location YouTube Channel. Agent Tours, Agent Emails & Open Houses when appropriate. Answer our phone, return voice mails promptly, & communicate well with clients. Bring pre-approved qualified buyers, very important in today's market. Coldwell Banker Concierge & Customer Services Guarantee is written 100% for you. Technolgy Advantages