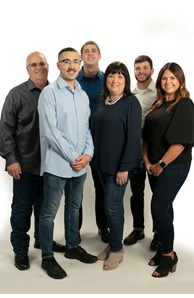 Email

dan.haeck@pittsburghmoves.com

Phone
Office
Designations
Residential Construction Certified (RCC), Certified New Homes Specialist (Cert. New Homes Sp.), Luxury Property Specialist (Luxury Specialist), Cartus Network Affinity Specialist (CNAS), eAgent, Cartus Network Marketing Specialist (CNMS)
More about the Team
Testimonials


Dan and his team made selling our first home a breeze. He was able to answer all our questions (we had a lot) and put us at ease. Dan's knowledge of the market was instrumental in us getting the most from our home sale. He was thorough, efficient, and helpful every step of the way. It was a pleasure to get to know him and his family throughout the process. "Max"
Dan and Michelle were extremely helpful when I was looking for a house. They were always available when I needed them. They also found a lot of places that fit my interest. I had a great buying experience for my first time buying my own place. I couldn't have asked for a better experience! "Jodi"
Corey was our realtor through the Dan Haeck team and he went above and beyond what I expected him to!! We hired a realtor and were blessed to find a friend!! He is more than knowledgeable in the housing market and actually helped us through a lot!! Dan and Michelle also extended themselves to us when they found something they thought we would like!! We couldn't have asked for better!! Thank you all so much!! "Rachel"
Dan Michelle Haeck are by far the greatest duo paired real estate agents my wife and I have encountered. They're very attentive to your needs, and help make the whole overall process of buying a house easier. Definitely recommend these great people. "Korey"
We worked with Dan, Michelle, and Corey to find our new home in the fall of 2018 and spring/summer of 2019. We spent a lot of time with Corey looking for the house we felt we could see ourselves in for the long run. He was soooo patient and encouraged us along the way. He quickly learned what we were looking for and had us looking at houses within hours of being listed. He made looking at houses, with a 2 year-old and a 5 year-old in tow, very enjoyable. His non-pushy, understanding, and patient demeanor was exactly what we needed. He knew what he wanted and was determined to find it for us. Corey, Dan and Michelle work so well together as a team and pick up right where the other left off. They are very knowledgeable and make the whole process fun! We highly recommend them without reservation! Thank you #thedanhaeckteam for everything! "Emily"

Working with the Dan Haeck team was an easy decision. Corey was a great help and able to answer all the questions I had as a first time homebuyer! He helped to make the process as easy as possible and gave advice on anything I asked. Thank you so much!! "Ashley"
I've worked with Dan Michelle for years and they are always very professional. I am most impressed with how they put their clients first. As an inspector, I see many agents that seem more interested in selling the house versus selling their client the "right" house. Dan Michelle always seem to care more about their client then they do about just getting a commission.
Kelly (Eagle Home Inspections)
Michelle and Dan are both wonderful realtors and even better people! This is the 3rd house we have bought and they were by far the best we have worked with. Michelle is a great communicator and kept me up to date with everything throughout the process. Dan is like a utility knife. He truly does it all. He was a great tool to have when looking at houses. He would check things I would never even thought to look at. They both made the process easy and effortless. Couldn't recommend them more! "Mary"
I would recommend the Dan Haeck team. We worked with Corey as our realtor and found him to be knowledgeable about areas all over Pittsburgh, patient to work with and very responsive. He met us last minute, in a snow storm, to make sure we didn't miss out on something that might be perfect. Michelle was also a great help with the paperwork when it came time to complete our purchase. The Dan Haeck group is an all-star team! "Beth"
Education and Training
We are full time Residential and Commercial Realtors specializing in New Home Construction, resort and second homes, relocation, City Living, Condos Lofts, vacation homes, luxury home properties, and vacant land. We have a worldwide referral network for relocation properties.
We have been ranked in the Top 25 agents for Coldwell Banker Pittsburgh Offices since 2014 selling approximately 100 homes per year.
Get a positive, helpful partner for Buying or Selling a home:
Trusted resource for answers about the process
Innovative marketing strategies, Market Trends and Statistics
Expertise about neighborhood features
Ability to target Home Searches
Strong negotiation skills
Support through the closing and beyond
Certified New Home Specialist (CNHS)
Residential Construction Certified (RCC)
Member of the National Association of Realtors (NAR)
REALTOR (Realtor Association of Metropolitan Pittsburgh)
International Diamond Society
Full Time Realtors
Coldwell Banker Global Luxury
Fair Housing Advocate
Experienced in New Home Construction and Vacant Land Sales
Experienced in Commercial Real Estate Sales
Experienced in City Living , Town Homes, Condos, and Loft Sales.
Experienced in Resort, Vacation, and Second Home Sales
Over 30 years in sales and marketing experience. (Inside outside sales, retail, mfg. rep.)
Over 30 years of accounting office administration experience.
Personal Background/Community Involvement
Dan has been a volunteer firefighter for Pleasant Hills Fire Company since 1975 where he served as the borough fire chief for 14 years and is now a life member. Michelle served as the fire company's treasurer. Dan has also volunteered for several organizations in the past including Jefferson Hills EMS, Big Brother for BBBS of Pittsburgh, and Make-A-Wish of Greater Pittsburgh which is a charity that Coldwell Banker supports every year. In 2012, Dan was appointed to Pleasant Hills Borough Council. Dan has been in sales his entire adult life as a manufacturers representative, and various retail businesses that he owned. Dan got into real estate in 2007 and had the immediate support of family and the relationships he developed in businesses and in the local fire company. Dan's wife Michelle who had been a book keeper all of her adult life joined in 2010 as a partner in real estate. She took on all of the paperwork and much of the marketing which enabled Dan to continue growing the real estate business. Since then, we brought on Corey, Heather, Jeremy, and Michael. The team continues to grow and we enjoy helping our family, friends, past and new clients buy and sell homes.
To our Sellers, we're not in this just to get your home sold and move on to the next client. We want to build a long-standing relationship with our Sellers so we treat each home as if it was our own. We will properly list, market, and sell your home keeping you involved and informed throughout the process.
To our Buyers: There are few things more satisfying in real estate than helping Buyers find their "next door." We take pride in building relationships, professionally and successfully representing our clients, and all of us having fun together while doing it. We'll take time to understand your needs and wants, we'll know what you're looking for in a new house and we'll find that home in a price range that you can afford. We'll ensure a thorough home inspection, smooth closing, and enjoy a celebration together when we say "Welcome Home." If you're looking for a positive, helpful team that is ready to provide you with exceptional service, let's talk today!