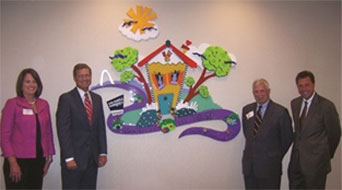 An Amazing 27 Years of Giving Back
For 27 years, Coldwell Banker Gundaker and its local offices has been hosting charity events to benefit Ronald McDonald House Charities. To date, the company has raised more than $1.7 million for this important cause.
Every year we put together fundraisers, trivia nights, chili cook-offs, and more. Our office events ultimately result in the company's amazing Annual Auction. But why? Why do we spend so much time and energy on this cause? Why are events organized during the craziest sales months? Why do we stay up late creating the perfect auction basket?
We do it because we are helping for families in need! Families who have a serious-ill or injured child. Families who are fighting every day to help heal their child. Families who need a place to rest, relax, receive support…a place to call home so they can focus all their attention where it needs to be – on their child and on their family. We do it because we care. As Realtors we know the importance of "home" and giving it to those in need is fulfilling, amazing and extremely important. We do it because we can make a difference.