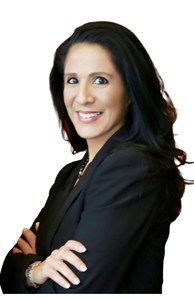 Sales Associate
Phone

Market LeesburgOffice

25 S King St, Leesburg, VA 20175
I'm here for you!
More about Denise Fuller
The journey to Virginia was not an easy one. I sold my home and most of our belongings, said goodbye to everything familiar, and with my two children, moved away to start a new life in the U.S. It was a scary time, especially when things went from bad to worse. Still, on the other side of adversity, all is well. I wake each morning feeling blessed to draw breath, to see my loved ones flourish, and devote my time to helping others through real estate.
I relied heavily on my strengths– a sound education, two amazing children, and a passion for excellence – to see us through. My career in real estate began after a string of part-time jobs in sales and customer service. During this time, I fell in love with Virginia. Everyone I met was so welcoming and friendly – and the ones who weren't … well, they were just having a bad day. I was yearning to do more.

So, when I got the chance to work in marketing for a well-established real estate team in Ashburn VA, I jumped at the chance. No one warned me how addictive the real estate industry really is. "What do you mean I get to help people sell and buy homes?" is what I thought after getting my real estate license shortly afterwards. I found my calling in wanting to build a company from the ground up, instilling my values for self-education, service, and excellence.

Little did I know that I was starting a business at the beginning of a two-year-long pandemic. It was hard on a new company but there was no other choice than to stick with it. So I relied on my faith, giggles from my children, knowledge from books, and my grit to keep me moving.

My parents and family valued education. Most of my school years took place in my country of birth, Belize. The years were spent in private religious based institutions and in the end, Jesuit universities. I got a bachelor's degree in Psychology from Wheeling Jesuit University in West Virginia and a master's degree in Educational Foundations from St. Louis University. I treasure my time in these places far away from home at the age of 18, learning new things about myself, the world, and others. It's why I love when new technology comes along. I get to lock myself up to figure it out and decide whether it will benefit our clients. It's always about providing the best customer experience and exceeding the highest expectations.

For most of my career (17 years), I worked at the American Embassy in Belize/US State Department. Here I learned to navigate through diplomatic communities, working with the media, and managing large scale events and projects. I still go back to those experiences when marketing my clients' homes (with a clear message), negotiating for my clients (with highest integrity), and doing open houses (because who doesn't like to throw a good party and make friends along the way).

By the end of 2021, the long workdays finally started to pay off. Our client database grew over 200% and the number of home sold more than doubled from 2020. To top it all off, I was named one of the top 10 producing agents in the Coldwell Banker Leesburg office and top 100 for the Mid-Atlantic Region. I look forward to continuously grow for the benefit of my clients in this ever-evolving industry.