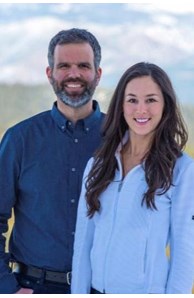 Email

John@Truckee-Tahoe.com

Phone
Office
More about the Team
The Biebl Group is John Biebl and Anna McGee, along with the help of their Marketing and Escrow coordinator, Amanda Neadeau. The Biebl Group has sold nearly 1,000 properties since 1997. They take pride in their ability to price, market, negotiate and sell properties for their always expanding list of satisfied clients. The Biebl Group is a team of Top Producing agents awarded and ranked within the Top 1% of real estate sales for the last 5 consecutive years among Coldwell Banker agents within the Sacramento/Tahoe region.
John Biebl grew up in Stillwater, MN, near the Twin Cities, a small town with a similar historical and tourist feel to Truckee and attended his first year of college at the Uni- versity of MN-Duluth. After graduating with a B.S. in Sociology and Geography in 1994, he left Oregon and traveled to Alaska, Utah and New Zealand. While traveling in these places, he realized he wanted to live in an area that provided outdoor recreation and beautiful rugged scenery. The opportunity came when John returned in early 1996 and Jeremy invited him to work with Second Home Care, Inc. John's involvement with Second Home Care, Inc. allowed him to develop a thorough understanding of the Tahoe area, not only real estate, but all aspects of home maintenance, costs and trends. John's goal is to ensure that his clients are informed about the different aspects to consider when owning a second home as well as the current market trends. His clients benefit from his experience of selling over 500 properties and his unique knowledge from years as Tahoe Donner residents and businessmen.
Anna McGee lives to be in the mountains! Born and raised in Salt Lake City, graduated college in Denver, CO, and found her way to the Tahoe Basin to explore new terrain. Anna unexpectedly fell head-over-heels for the community and lifestyle that this beautiful areas has to offer.
One of the reasons why Anna chose to become a Realtor is to share with others the things she loves most about Truckee and North Lake Tahoe. To accommodate Buyers and Sellers on both sides of the lake, Anna is a licensed Broker Associate in California with Coldwell Banker Residential Brokerage, and a Licensed Realtor in Nevada with Lake Shore Realty.
As a real estate professional, Anna believes in changing the "status-quo" within the Real Estate industry for her client's fulfillment when buying or selling a home. Her approach to home-buying or selling is to first educate her clients about the current housing market, trends, and best strategies enabling them to buy and selling with confidence. With no added pressure, Anna clients are allowed the time they deserve to make a well-informed decision with the guidance of a real estate professional. Aside from work, you will find Anna out enjoying some of her favorite sports including skiing, biking, hiking and playing tennis. A true outdoor enthusiast, Anna would love to share her own experiences and recommendations for enjoying all Tahoe has to offer.
Take some time to read client reviews about Anna on Zillow or see what she is up to on Instagram!