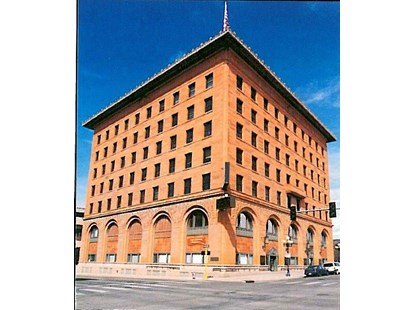 503 N Main St Ste 103

,

Pueblo

,

CO

81003
More about Pueblo
Associate Brokers affiliated with the Pueblo Office:
Susan McCarthy - Associate Broker
Office: (719) 544-1057
Cell: (719) 250-1809
Fax: (719) 598-9469
Scott Moore - Associate Broker
Office: (719) 544-1057
Cell: (719) 250-1809
Fax: (719) 598-9469
Art Leach - Associate Broker
Office: (719) 544-1057
Cell: (719) 250-3247
Fax: (719) 598-9469
Tony Martinez - Associate Broker
Office: (719) 550-2500
Cell: (719) 423-9813
Fax: (719) 598-9469
Award-Winning Office Serves Diverse Real Estate Needs including Military Personnel & Commercial Segment.
Coldwell Banker's southern office in Pueblo is distinguished by many unique attributes.
In addition to serving the real estate needs of mainstream customers throughout a large geographic region, the office provides a wide variety of housing needs for thousands of military retirees, entrepreneurs, transferees and their families.
The Pueblo office is also partnered with several of the state's leading independent real estate specialists who are well versed in all aspects of the business, including investment properties, first-time buyers, land, retirement properties and more. Coldwell Banker in Pueblo is affiliated with experienced real estate professionals, with special real estate designations recognizing the successful completion of stringent continuing education courses in real estate.
The Pueblo office is the largest servicer of the most important Relocation companies in the USA, which includes: USAA and Cartus.
Coldwell Banker top-producing agents serve clients in the greater Pueblo area, which includes: Pueblo West, Beulah, Rye, Red Creek Ranch, Hatchett Ranch, St. Charles and Mesa.
Like all Coldwell Banker offices, the Pueblo office enjoys the outstanding advertising support that Coldwell Banker provides, plus national and international exposure to buyers through various programs that help bring buyers and sellers together. Real Estate professionals choose to partner with Coldwell Banker because of the unlimited amount of resource available to agents.
The Pueblo office is also a proud member of the community, actively supporting the Pueblo Zoo, the Southern Colorado Community Foundation, and various charitable endeavors, including Habitat for Humanity.
Real estate agents affiliated with Coldwell Banker Residential Brokerage are independent contractor sales associates and are not employees of Coldwell Banker.