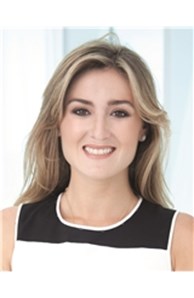 Sales Associate
The Jills Zeder Group
More about Hillary R Hertzberg
With a background in marketing and sales, Hillary Hertzberg is an integral member of The Jills Zeder Group. Extremely passionate about luxury real estate and providing success to her clients, she is a highly successful luxury real estate agent. In 2015, she was named a Coldwell Banker brand 30 Under 30 honoree, which recognizes top affiliated real estate professionals in the U.S., Canada and overseas under the age of 30 who has achieved early success in sales, philanthropy and leadership. In 2014, she achieved the most-expensive purchase price per square foot for a property priced under $10 million on the Venetian Islands; in 2016, she achieved a record-breaking sale in Bay Harbor.
Hillary successfully utilizes her exceptional knowledge of both traditional and digital marketing to maximize exposure for her sellers and provide comprehensive information for her buyers. She uses the latest technological advances and harnesses the power of social media to market and sell her properties on a global scale. Hillary has helped lead The Jills Zeder Group to a prominent social media presence, which currently enjoys more than 61,000 followers across multiple platforms.
Hillary was featured on a panel at 2015 Generation Blue real estate conference and has been invited to speak at multiple conventions and presentations. She has also served as a keynote speaker at the Coldwell Banker Elite Sales Club meeting, and a guest contributor and authoritative source on key real estate issues for diverse media outlets, including CBS4 Miami, NBC6 Miami, Ocean Drive magazine, Realtor.com, the Miami Herald, and The Real Deal, among others.
Born and raised in Miami Beach, Hillary is fluent in Spanish. She holds a bachelor's degree from Washington University in St. Louis, Missouri; and is currently enrolled in the Professional MBA program at the University of Miami and will graduate in December 2018.
Hillary and her brother Danny, also a luxury real estate agent at The Jills Zeder Group;, give back a percent of their real estate commission to a charity or charities chosen by the client. Called the Second Generation Giving Fund, Hillary and Danny have donated to charities close to the hearts of their clients after every transaction, including the Peggy Adams Animal Rescue League, Jewish National Fund, The Friendship Circle, Frost School of Music, Fundación Manos del Sur, Susan G. Komen, Ronald McDonald House Charities, Habitat for Humanity, GESU Catholic Church, Fisher Island Philanthropic Fund, Crohn Colitis Foundation of America, Humane Society of Greater Miami and Sylvester Comprehensive Cancer Center, among others. The Jills Zeder Group played an integral role in Coldwell Banker's national network/Coldwell Banker Residential Real Estate October 2017 initiative to donate, ship, load, unload and sort supplies for victims of Hurricanes Irma and Maria.
The Jills Zeder Group expertise and knowledge of the luxury market have helped them achieve record-shattering sales, including the sale of the Versace Mansion and the highest recorded sale in Miami ever, the $47 million sale at Indian Creek. Since 2005, The Jills Zeder Group closed approximately $4 billion in sales. They have sold more homes on Pine Tree Drive and La Gorce Island than any other Realtor.
They have been ranked the No. 1 Coldwell Banker team internationally five times, and are currently the No. 1 Coldwell Banker team in the state of Florida for team volume. They were recently named the No. 1 residential real estate large team in Miami-Dade and in the state of Florida for the 15th consecutive year, and received the Society of Excellence award - the highest award level for sales associates of Coldwell Banker NRT. In addition, The Jills Zeder Group was recently named among the top 10 NRT large teams across the country in Gross Commission. The team also earned the company's prestigious Society of Excellence award the previous year.
Additionally, the 2018 REAL Trends America's Best Real Estate Agents report recognized The Jills Zeder Group as being among the most successful real estate teams in Florida. This report ranked the most productive residential real estate agents and teams by state, based on closed sales volume and closed transactions sides in 2017. The Jills Zeder Group was also recognized for their 2017 sales achievements. They were named the No. 1 team in the state for sales volume, achieving over $300 million in closed sales volume in 2017.
The Jills Zeder Group is often recognized as top performers in the media, including The Real Deal's ranking of top brokers and broker teams and Haute Living Haute 100 list, which celebrates the biggest names in Miami, including philanthropists, entrepreneurs, power players and more.