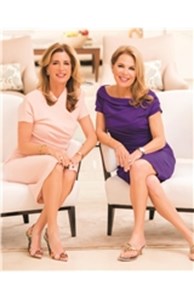 Twice the Selling Power
Awards

International Society of Excellence Team

QSC
Designations
Cartus Network Marketing Specialist (CNMS), Green Designation (Green)
Languages other than English
Spanish, Russian, Portuguese
More about the Team
Biography
Consisting of Jill Eber, Jill Hertzberg, Danny Hertzberg, Felise Eber, and Hillary Hertzberg, The Jills team is one of the most successful in the state of Florida as well as in the United States. Focusing their finely-tuned expertise on luxury residential properties like the Miami Beach islands, Fisher Island, elegantly classic Coral Gables, and the barrier island of Miami Beach, the team is ranked number one in Florida by The Wall Street Journal. Since 2005 the team has sold some of the most iconic properties in the country and continue to receive countless accolades and awards. Besides their status as the number one team in Florida, The Jills are also the number one team worldwide out of more than 80,000 Coldwell Banker agents.
Awards and Designations
They were named the 2001 Top Producers for their Miami Beach office. In 2002, 2003, and 2004 Coldwell Banker honored them with its highest award- Member of the Legends Society . This membership represents the top .5% of all Coldwell Banker Sales Associates worldwide. In addition, they were ranked among the TOP 10 Realtors in Florida. Their reputation for excellence is based on their unique ability to match "one-of-a-kind" clients with "one-of-a-kind" properties.
The Jills In The News
The Jills have recently appeared on CNBC's Power Lunch, TLC'S Million Dollar Agent and on The Insider with Shaunie O'Neal. In 2005, the Jills will participate in approximately $300 million in residential real estate sales.
The Jills vast list of prestigious clientele includes some of the world's dignitaries, actors, musicians, celebrities, sports figures and local prominent business leaders. Recognizable names such as Mike Piazza, Jim Courier, Rudy Perez and Shaquille O'Neal, just to name a few. They have also been involved in the sales of Maurice Gibb's and Ricky Martin's homes.
Twice the Selling Power
"Jill and I share more than the same name, we have the same work ethic and goals, and we love, respect and trust each other implicitly," said Jill Eber. "We both believe in providing the highest level of service to our clients, and together we can do so. Working together is very motivational. We are both naturally enthusiastic people and we feed off each other, which makes work fun."
In their limited free time, both are actively involved in the community, supporting numerous charities, organizations and events. On a personal note, Jill Eber is an avid scuba diver and skier while Jill Hertzberg enjoys running in marathons.