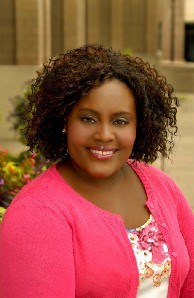 Sales Associate
Email

candace.thompson@cbcarolinas.com

Phone
Office

Ballantyne

3440 Toringdon Way Ste 110, Charlotte, NC 28277-3191
Helping You Make the Right Move!
Connect with Candace
Awards

International Diamond Society
More about Candace Thompson
Knowledge. Commitment. Integrity. Experience. Results.
Welcome and Thank You for visiting my website and for giving Coldwell Banker and me an opportunity to assist you with your real estate needs.
Like Forrest Gump's mother said, "Life was like a box of chocolates, you never know what you're gonna get." Well, life is like that, but as your realtor, I want us to get to know one another, b/c to me, life is about people and it's about people's lives.
I was born and raised in Rock Hill, South Carolina, about 15 minutes south of Charlotte, North Carolina where our motto is smiling faces and beautiful places. I attend Elevation Church under the leadership of Pastor Steven Furtick. I went to college at The University of South Carolina, home of The Fighting Gamecocks a.k.a the other Carolina and USC, where I received my Bachelors of Science and real estate school at JY Monk School of Real Estate. Upon graduating college, I took a sales position within the real estate industry where I traveled throughout the United States and had the opportunity to live in various cities. But, through all my traveling experiences, I realized just how much I missed my family. I am the proud aunt of two little pumpkins, a nephew and niece who are my only brother and sister-in-law's little tykes and a furmom to Captain the Pomapoo. I have no sisters, but a host of close friends and cousins who I have strong sisterhood bonds with. If I could have lunch with anyone, I would choose Oprah Winfrey.
Places I've Lived and/or Traveled to:
Rock Hill, South Carolina

Columbia, South Carolina

South Lyon, Michigan

Santa Clarita, California

Fort Meade, Maryland

Tampa, Florida

Memphis, Tennessee

Garner, North Carolina

Macon, Georgia

Jamaica

New York, New York

Paris, France
My Hobbies/Interests
Karaoke

Traveling (One day I plan to visit all 50 States and many foreign countries)

Canvas Painting (abstract artwork w/acrylic based paint)

Antique Shopping

Playing the Guitar (I own an Acoustic and an Electric guitar)

Playing Cards (Spades is my game, but I would like to learn how to play poker)

Meeting New People
If you or any one you know has any real estate needs, please feel free to give me a call at 704-778-0779;I would love to hear from you.