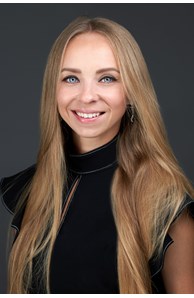 Sales Associate
Email

maria.osokina@cbws.com

Phone
Office

Hyde Park

2721 Erie Ave, Cincinnati, OH 45208-2103
Full Time Residential Real Estate Professional
More about Maria Osokina
Full Time Residential Real Estate Professional
Specializing in Hamilton County Properties
"I love people and being around them. My love language is acts of service, which is why it feels very rewarding for me to help my clients reach their real estate goals" (c)
A trusted buyer's and seller's agent, Maria's commitment to building a highly efficient sales strategy and advocating for her clients is the cornerstone of her client-centric real estate approach. Her desire is to build and maintain trusting, lifelong relationships with her clients in order to help them accomplish their personal real estate goals and ensure that all transactions are serviced to the highest standard.
Maria firmly believes that her strong work ethic and meticulous obsession with every detail throughout real estate transactions are the keys to success in making this often very emotional process as smooth as possible: "Having a home is the most understandable human desire, it's what makes us who we are in the most comfortable place we want to be. Buying a house usually marks a milestone in our lives, either personal or work related, and I see my purpose as being a guide for my client, accompanying them on this exciting journey from one chapter of their lives to another"
Born and raised in Russia, Maria moved to Cincinnati from vibrant Moscow following her heart and her husband, Aaron. They are proud to call themselves Cincinnatians and to be active members of the Cincinnati cultural community. When they aren't working, you're likely to find Maria and Aaron enjoying the arts at Cincinnati Art Museum, admiring a Cincinnati ballet, opera or CSO performance, travelling around the US and the globe, getting involved with local communities, or engaging in health and wellness (they are both passionate runners, and Maria is an active yogi with more than 10 years of experience).
Before moving to America, Maria had an exciting professional career in linguistics, fashion reporting and event hosting. After graduating cum laude in Roman Languages from Moscow State University with post-graduate studies in Italian Linguistics, she worked for several years as a simultaneous interpreter, recognized as #1 on the market by institutions such as the Italian embassy, Italian Chamber of Commerce and Institute of Italian Culture. Her relentless ambition and professional reputation led her to work with world renowned artists, actors, singers, politicians, photographers, wine critics, and Michelin chefs.
This exposure brought her to the attention of the Italian fashion houses, where she became an ambassador to the Russian market for several prominent brands. Her success eventually landed her a role hosting the TV program "Fashion reporter," broadcast internationally by the World Fashion Channel, where she covered the latest collections of legendary houses like Armani, Versace and Etro from fashion weeks in Milan, Paris and Moscow. Now recognized as among the best English-speaking presenters in Moscow, she went on to host several international world-class events for clients including Euronews Sportaccord Awards and the FIFA World Cup.
To see any home for sale listed with any company call/text her at 5137602404 or email maria.osokina@cbws.com
Search homes in your neighborhood and around the world-download Maria's free app:
https://www.homesnap.com/Maria-Osokina