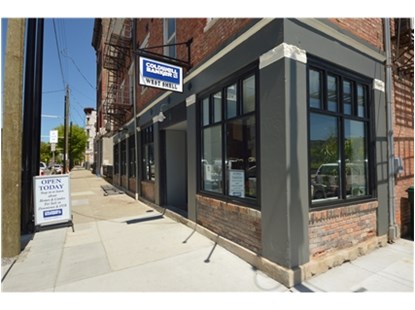 1400 Elm St Unit 1

,

Cincinnati

,

OH

45202
More about Metro Link
The Coldwell Banker West Shell Metro Link office is ideally located in the heart of the Gateway Quarter in historic Over-the-Rhine. The Gateway Quarter is known for its historic Italiante architecture and its pre-Prohibition Brewery District. With a lively bar life and unique dining options, OTR is a sought after community for urban dwelers.
Our agents are particularly knowledgeable and experienced in helping buyers and sellers in the city.
We specialize in :
Seller and Buyer Representation
Urban Lofts and Condos
Historic Over-the-Rhine homes
New Homes
Land Development
Residential Leasing
We have an honest and open, selfless team approach that creates a setting for remarkable client support and project resolution. We all believe that cutting corners is unacceptable and that scores of truly pleased customers is our best reward.
Welcome to Cincinnati! from CitiCable on Vimeo. ArtsWave - ARTeries from Soapboxmedia.com on Vimeo.
About the Manager, Bill Heckman
Starting right out of college, I am a thirty year veteran of the real estate industry. Throughout a varied career that started in sales and led to roles as a marketing director, land developer, broker/owner, investor and manager the unvarying principals that guide me have served well.
As District Manager of the Hyde Park, Metro Link and Ohio Indiana offices, I set high expectations and goals for our agents. My experience and understanding of this industry allows me to give thoughtful guidance and clarity.
I believe that positive-minded people can form enduring partnerships that pay rewarding dividends. Loyal, dedicated, good-natured, candid colleagues are necessary to create fulfilling environments.
I believe that lofty visions are more fun to strive for than ordinary objectives. And, when these visions are understood, the steps to success are clear.
I believe that remarkable customer service is buttressed by the simple things. Not cutting corners, thoughtfulness, sincerity, kindness and personal attention - these are the lasting virtues that make the true difference.