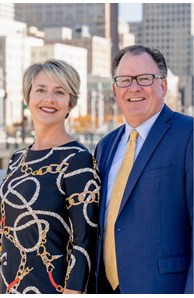 Email

ron.bisher@cbws.com

Phone
Office
"Relationships. Community. Results."
Awards

International President's Circle Team

Circle of Excellence

2014 OAR President's Sales Club Award

Cartus
More about the Team
Business Philosophy


Ron and Anna Bisher have established a successful career in real estate based upon their hard work, perseverance, and personal involvement within the community. Their dedication, in-depth knowledge of the west side, and outstanding customer service help maintain their current clients, as well, as acquire many referrals. all of these assets combined lead to their high sales volume year after year.
If you have been thinking of purchasing check out our short video of Buying a Home with Ron and Anna Bisher
If you have been thinking of selling your home check out our short video of Selling A Home with Ron and Anna Bisher
Awards and Designations
Top 1% of all Coldwell Banker Agents
Top 30 Coldwell Banker
Coldwell Banker West Shell President's Advisory Council, #9
Coldwell Banker Diamond Society
Coldwell Banker International President's Premier Club 2015
Cincinnati Area Board of Realtors Circle of Excellence 1994, 1995 and 2001 thru 2014
OAR President's Sales Club 1993 thru 1997 and 2000 thru 2014
Cartus Network Affinity Specialist
Ron's Community Involvement


Our Lady of Visitation Parish Member, Golf Commissioner and Basketball Coach
Serves on the Membership Committee for the Western Hills Country Club
Past Advisory Board President of Deer Run Country Club
Anna's Community Involvement


Member of the Cincinnati Area Board of Realtors
Board of Directors Sophie's Angel Run
Advisory Board Committee Member for Paralegal Studies at the University of Cincinnati
Member of Our Lady of Visitation
Past Advisory Board Vice President of Deer Run Country Club
Personal Background


Both Ron and Anna are native Cincinnatians currently residing in the Bridgetown area with their daughters; Ashley, Abigail, and Carly.
Testimonials
"Ron and Anna were really great to work with, the sale of my condo was in 1 day, I couldn't have asked for more. They were very knowledgeable, returned phone calls and text messages in a timely manner, and I got detailed answers to all my questions. I would recommend Ron amp; Anna to friends and family."- Kim T, Harrison (Seller)
"It was a complete pleasure working with Ron on this purchase. He and his staff did an outstanding job from start to finish! I had a considerable amount of interaction with Stephanie Cox, Ron's assistant, through the course of this transaction. I was very appreciative of her kindness, attention to detail and overall professionalism!"-DS VENTURES LLC (Buyer)
"Anna was very pleasant, caring to our needs, very knowledgeable re her business, very helpful. If she didn't know the answer to one of our questions, she got the answer very promptly. Ron was also very helpful, knowledgeable, and personable."- Gayle M (Buyer)
"I would never use anybody other than Ron amp; Anna to purchase or sell property o the Westside of Cincinnati!!! They know the market extraordinarily well and have always done a GREAT job of honest, trustworthy representation!!!"-Doug H, Cincinnati, OH (Seller)
"Ron, Anna and their team are a great combination. They are very knowledgeable of the area and have realistic expectations with all real estate transactions. I would highly recommend them to anyone."-Aaron D. Evendale, OH (Seller)
"Ron and Anna Bisher moved the process smoothly along and were always responsive to request to view properties or answer questions."-Jim B. Western Hills Cincinnati Ohionbsp;(Buyer)
"Anna and Ron were like family by the time I was finished buying my first house! The process went smooth and stress free. Thanks Anna and Ron for your great work on finding me the perfect house and neighborhood!"- Jodie F (Buyer)
Subscribe to our Newsletter!