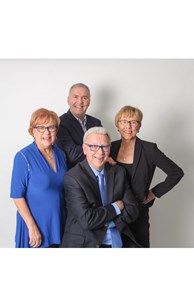 Email

ralph.marks@cbhomes.com

Phone
Office

Wyomissing

975 Berkshire Blvd, Wyomissing, PA 19610
"Teamwork That Works For You"
More about the Team
We work hard...
We're the Ralph Marks Team and we serve home buyers and sellers in the Berks and Lancaster County areas. We love what we do!

This is about more than real estate. It is about your life and your dreams. The Marks Team challenge is to help you and those you care about. To do that, we function in the role of consultant, negotiator, and the overseer of transnational details.

We work hard at understanding the client's values and goals. To do that well, we have to have the opportunity to sit with the client and ask a number of questions designed to help him clarify for us (and ultimately for themselves) what really matters to him and why it is important to him/her. Our goal is also to take the burden of weight off the client and carry the load for him with the least amount of turbulence. The ultimate goal is to serve my client so well that we will find the client happy and delighted to refer us to others he knows and cares about.

Meet Ralph Marks -- I have had a long career of care and service to others. For many years I worked with School Districts, music teachers and students to develop quality music teaching & performance programs for Zeswitz Music Store. I have also served as Pastor to churches in both the U.S. and Canada. I am now developing my third career in real estate working with buyers and sellers providing them with the care and service developed over a long career of helping people. In November 2013, my wife, Kim, joined me combining her customer focus and attention to detail skills to mine to form The Marks Team.

Meet Kim Marks -- After 14 years of investment, trust and fiduciary experience with Wells Fargo and legacy banks, I joined my husband, Ralph Marks in November 2013. We now work together as the Ralph Marks Team where buyers and sellers can experience the customer focus and attention to detail skills that my years at the bank can provide and the care and service that Ralph can provide from a long career of helping people.
Meet Rick Eckroth -- Nothing is more exciting to me than the gratifying feeling I get from helping people meet their real estate needs. You can count on me to always do what's in your best interest. I pride myself on being honest, trustworthy, and knowledgeable in the real estate market. I know how important it is to find your dream home or get the best offer for your property. Therefore I will make it my responsibility to help you achieve those goals. 
Whether you are an experienced investor or a first time buyer, I can help you in finding the property of your dreams. Please feel free to browse my website or let me guide you every step of the way by calling or e-mailing me to set up an appointment today.

When you're ready to get started, give us a call at 610-615-7396 or visit us at www.buyandsellsepahomes.com.