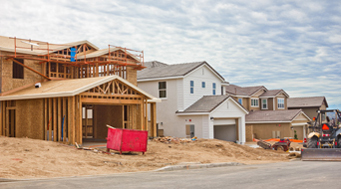 Is a new construction home the best choice for you? There are key differences between new construction and existing homes, both in the buying process and the end result.
Both new construction and existing homes have distinct advantages. How much the benefits of buying a new construction home factor into your decision depends on your priorities and preferences. These generally include:
Lower maintenance costs
Modern floor plans
Increased energy efficiency
Ability to customize features and finishes (appliances, flooring, etc.)
Wiring that better accommodates new technologies
Home Buying Process
In terms of the home buying process, many of the basics are the same; however, with new construction homes there are some additional considerations. Coldwell Banker is here to help you navigate them.
As with existing homes, the search begins with identifying the most desirable location. New developments are generally farther out from well-established commercial centers. Keep this in mind with regard to commuting, schools, and proximity to amenities. A Coldwell Banker Sales Associate can provide detailed information on locations, new developments and building sites.
A new construction home can either be a production home or a custom home. Production homes are found within communities or subdivisions. All homes are built by the same builder, and offer a selection of floor plans to choose from. Custom homes are built to the buyer's specifications from the ground up.
Selecting a Builder
The need to find the right builder is perhaps the single biggest difference between buying a new construction home vs. an existing home – and its importance cannot be overstated. Whether you want a production home or a custom home, your builder will play a crucial role in the largest investment you may ever make. Their skill, attention to detail and quality standards will impact your future comfort and happiness, as well as your home's value and maintenance needs for years to come.
Your Coldwell Banker Sales Associate can provide you with a list of builders who construct homes in your chosen area, along with information on the types of homes they build and general pricing. Use this to create a list of builders who match your desired type of home and budget.
The next step is to interview the builders who fit your criteria. Here's what to look for:
Style: Each builder has a distinctive style. Make sure it fits with your individual tastes, and that the builder has experience with the style of home you want.
Quality: When visiting model homes, examine the quality of the construction and materials, such as the cabinetry, carpeting, trim work and paint.
Integrity: A reputable homebuilder will belong to a local homebuilders' association. They'll also provide you with references of past clients.
Comfort Level: It's important that you feel comfortable with the builder and feel free to ask questions throughout the construction process.
You may also want to visit the builder's previous developments and speak to residents. The local building inspector can provide an informed opinion on construction quality.
The Construction Contract
Once you've decided on a location, a builder, and everything you want in your new home, the builder will provide a construction contract. Alternatively, you may draft one yourself, or hire an attorney. Coldwell Banker will review the contract with you to ensure your satisfaction, and if desired, help negotiate the terms.
The purpose of the contract is to guarantee that you get the house as promised, and the contractor gets paid. It also serves to iron out any disagreements before the work begins, and provide guidelines for handling any disputes that may arise later.
The complete contract terms will include the agreed-upon down payment. Most builders require 10% to 25% upfront. If the home is already built, the builder will likely accept 10%. If the builder is creating a custom home, expect to pay a 25% deposit.
The total price tag will increase with the number of custom features and the time it takes to build the home. A custom home with an improved road to the home site, for example, can take anywhere from 120 days to 18 months to complete, depending on a variety of factors.
The Pre-Closing Inspection
Before closing on your newly constructed home, you and your builder will do a walk-through inspection. This gives you an opportunity to identify anything that may need to be adjusted. Most builders conduct a thorough inspection and have the home cleaned before the buyer sees it. However, there are over 30,000 parts in a new home, so the likelihood of imperfections is great.
Look for scratches on countertops and flooring, and gouges in the walls. Moldings and trim should be square. Take photos, particularly if you discover a problem. The builder will want to make repairs before you move in. He or she will also go over how various features of your new home work.
The pre-closing inspection is also when the builder explains your responsibilities for maintenance and upkeep, and provides information on warranty coverage and procedures. Understanding your maintenance and upkeep responsibilities is crucial. Most new homes come with a one-year warranty on workmanship and materials. However, problems that result from the buyer's failure to perform required maintenance are not covered. Be sure to follow your builder's guidelines.
For more information on warranties, see Protecting Your Home.
Depending on how you choose to finance your home, the process of closing on your new home is similar to that of existing home buying. Rest assured, Coldwell Banker will be with you every step of the way.
After Closing
If you find settlement cracks in the drywall or nail pops, even a year after you move in, don't be alarmed. Such occurrences are not uncommon once a new home begins to settle. They are easily repaired, and the builder is responsible. If possible, call the builder before the one-year warranty terminates.